Go Sugar Free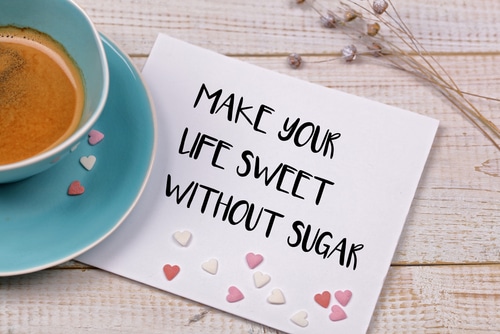 From cough drops to peanut butter, added sugar can be found in even the most unexpected products. Many people rely on quick, processed foods for meals and snacks, which includes 'energy' drinks. Since these products often contain added sugar, it makes up a large proportion of their daily calorie intake.
In the US, added sugars account for up to 17% of the total calorie intake of adults and up to 14% for children. This is not to mention, the use of sugary soda drinks to replace vitally needed water.
Experts believe that processed sugar consumption is a major cause of obesity and many chronic diseases, such as diabetes. Are you ready to go sugar free and make your life sweet without sugar? We can help!
Sugar addiction is almost always a symptom of underlying imbalances in our lives. These imbalances form the foundation of the dependency cycle — a physically and emotionally driven circle that can govern our intentions, decisions, finances, quality of life, relationships, and eventually, our health.
The reason why diets and one's willpower are usually only temporary is because they only deal with the symptoms of the compulsive behavior and rarely do they treat the causes. The best way to achieve long-term, life changing success is to break the dependency cycle.
What makes Weiss Method different
The Weiss Method's individualized approach toward sugar cessation addresses the roots of the issue, including the triggers that feed the dependency cycle.
A Weiss Method practitioner can help to free you from your unwanted sugar addiction as well as provide helpful information to keep you on track after your treatment. We want you to be able to enjoy your food and your life, because a balanced diet is a strong foundation for a long term happy and healthy life. Visit our East Tennessee office in Decatur, Tennessee, and we'll help you end the sugar habit and replace it with new healthy patterns.
One-on-One
When you seek treatment for compulsive behaviors such as reaching for sugary foods, it should be tailored to your personal needs. A Weiss Method practitioner works with each client on an individual basis and treats the person first and the dependency second. This allows us to get to the root causes that promote the unwanted behavior.  We've found that this method results in faster, more successful results.
Confidential
Weiss Method sessions at our East Tennessee office in Decatur, Tennessee are 100% confidential.  As each person's circumstance and the triggers that provoke cravings are unique, you can feel comfortable identifying and speaking about them in trust.
Fast
Best of all, Weiss Method works quickly to calm your cravings and break the cycle of addiction.
Most people complete their treatment during a single session and become apathetic to eating sweet foods.  In just a few days after beginning treatment people have better concentration, greater ability to focus, feel energized, need fewer hours of sleep, and some report an improvement in their overall feeling and mood.
"Since the Weiss Method treatment, I have more energy, feel fresher, and can quickly and easily make decisions. I feel like new again! I feel so fortunate that my friend persuaded me to try the Weiss Method treatment."  — Patrizia D.
Our treatment centers located in East Tennessee serve all the surrounding areas, including Chattanooga, Ooltewah, Athens, Kingston, Farragut, Tellico Plains, Nashville, Knoxville, and Decatur.
Call (800) 913-0094 and make a fresh new start toward a healthy life today!
We'll reach out to set up your Weiss Method treatment.